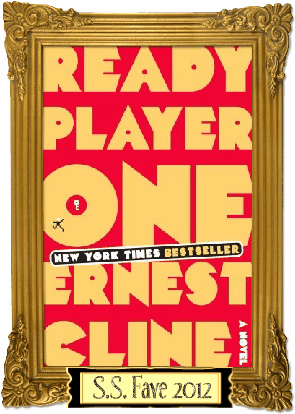 The Scoop (Goodreads):
It's the year 2044, and the real world is an ugly place.

Like most of humanity, Wade Watts escapes his grim surroundings by spending his waking hours jacked into the OASIS, a sprawling virtual utopia that lets you be anything you want to be, a place where you can live and play and fall in love on any of ten thousand planets.

And like most of humanity, Wade dreams of being the one to discover the ultimate lottery ticket that lies concealed within this virtual world. For somewhere inside this giant networked playground, OASIS creator James Halliday has hidden a series of fiendish puzzles that will yield massive fortune--and remarkable power--to whoever can unlock them.

For years, millions have struggled fruitlessly to attain this prize, knowing only that Halliday's riddles are based in the pop culture he loved--that of the late twentieth century. And for years, millions have found in this quest another means of escape, retreating into happy, obsessive study of Halliday's icons. Like many of his contemporaries, Wade is as comfortable debating the finer points of John Hughes's oeuvre, playing Pac-Man, or reciting Devo lyrics as he is scrounging power to run his OASIS rig.

And then Wade stumbles upon the first puzzle.

Suddenly the whole world is watching, and thousands of competitors join the hunt--among them certain powerful players who are willing to commit very real murder to beat Wade to this prize. Now the only way for Wade to survive and preserve everything he knows is to win. But to do so, he may have to leave behind his oh-so-perfect virtual existence and face up to life--and love--in the real world he's always been so desperate to escape.

A world at stake.
A quest for the ultimate prize.
Are you ready?
His 2009 film
Fanboys
, much to his surprise, became a cult phenomenon. These days Ernie lives in Austin, Texas with his wife, their daughter, and a large collection of classic video games. READY PLAYER ONE is his first novel.
Website:
http://www.ernestcline.com/
Twitter:
erniecline
...and he owns a Delorean DMC-12 just like in
Back to the Future
!!
My Take:
So, our buddy Wade, is living in a pretty grim reality in 2044. The world has devolved to the extreme have's and have-not's (guess which one Wade is...) and almost everyone has retreated to a Utopian virtual world of their own design, OASIS. Wade is an OASIS fanatic and when the gazillionaire creator of OASIS dies and leaves his fortune up for grabs to anyone smart enough to get it, Wade is an unlikely but strong contender.
Wade's equipment was more high tech, but this pic is funnier...
Wade has to avoid death and destruction (literally and virtually) in his attempt to find every clue and solve the puzzle before anyone else. The Easter eggs and puzzles are all retro (from the 1980's) and are fun to read and solve along with Wade for anyone who might remember (and love)
War Games
, John Hughes, and old school video games.
Yep. This guy makes an appearance and it's a nail-biter!! Watch out for Blinky, he's a bastard!!
The stakes are high as an evil corporation is hell bent on solving the mystery before our beleaguered hero.
Ready Player One
is somewhat of a cross between
Willy Wonka and the Chocolate Factory
,
Tron
and Second Life with
Eagle Eye
thrown in for good measure.
I think Willy's off his meds...
The pace is brisk and at several points, the pages were turning so fast I thought I was going to get carpal tunnel. I could easily see
Ready Player One
becoming a great adventure/suspense movie. And guess what? It is! ...in 2014. Great, rollicking thrill ride through our past, present and future. I can't wait to see what Ernest Cline comes up with next!
Final Verdict: