Woohoo! It's finally here! Going to a Comic Con has been on my bucket list for quite some time and since my family lives in NY, the New York Comic Con was just the thing!
We got four day passes before they sold out, luckily and a small crew of us got the chance to check NYCC 2012 a day early.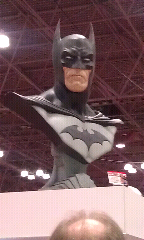 Although it was cool to get the lay of the land on Thursday, there wasn't a ton of stuff going on yet. Plus side: not very crowded and there were tons of comic book deals that weren't around on Friday. (Although we're waiting to see what Sunday has to offer too!)
Marc (my BFF) and I left out of H-town at 5:40 in the morning after only getting an hour of sleep the night before because we were too excited! So, maybe our lack of sleep led to a little less manic fun on Thursday's NYCC preview day, but we sure made up for it on Friday!